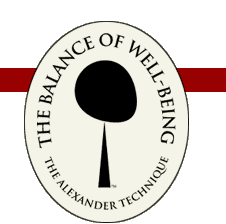 | | | |
| --- | --- | --- |
| | A Life-Changing Adventure. | |
















The Alexander Technique
First Lesson
An Introduction to the Alexander Technique with William Hurt and Jane Kosminsky
Special Feature: An interview with William Hurt.

NEW! Streaming Option - For private home use
Stream the entire video - $20


DVD Options:
For private home use:
$29.95 + Shipping & Handling


PPR version (what's this?):
$99.95 + Shipping & Handling


For bulk orders, please go to the Package Page. If you wish to show the video in a public setting, you must purchase the DVD licensed with Public Performance Rights (PPR). Learn more about private home use vs. PPR.


DVDs usually ship within 1-2 weeks.



In 2007, THE BALANCE OF WELL-BEING issued a revised DVD edition of FIRST LESSON that includes a special feature: an interview with Mr. Hurt conducted during the original shoot but not included in the original release.

CHANGING YOUR LIFE BY CHANGING YOUR POSTURE

"The Alexander Technique has helped me to undo knots, unblock energy, and deal with almost paralyzing stage fright."
— William Hurt

FIRST LESSON is an introduction to the Alexander Technique. Renowned stage and screen actor William Hurt joins former Paul Taylor dancer and certified Alexander Technique teacher Jane Kosminsky in a pioneer video that shows you how to begin a remarkable voyage of discovering how to live with greater vitality, energy and exuberance.

The Alexander Technique is a stress-free, absolutely portable (no special place, equipment or costume needed!) method of engaging the intelligence of mind and body to change how we use ourselves and how we function. For over 100 years the Technique has not only helped performing artists look better, breathe better, move better, even bow better, but also benefited people from all walks of life. Whether you're are a dancer or a doorman, a new mother or a grandmother, an athlete or an accountant, this "secret weapon" can be yours.

FIRST LESSON includes a history of F.M. Alexander and explanations about what the Technique is, why it works, how it works, and ways in which a beginner can start to use the principles in a series of daily activities. It also includes a complete self-lesson that you do lying down.






This site and all content Copyright 2005-2018 THE BALANCE OF WELL-BEING
Site Design: Canfield Design Studios, Inc.