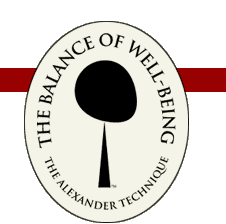 | | | |
| --- | --- | --- |
| | A Life-Changing Adventure. | |














Dmrecommends
For Dancers, The Alexander Technique

...for patient, curious dancers seeking a balance of energy and ease, these programs provide a compelling gateway to further study.

— S.B.
Dance Magazine



Dear Jane,

My name is Wayne Byars and I teach an open advanced/professional ballet class in Paris France. Recently a student of mine gave me two DVDs that you did on the relationship between the Alexander Method and dance. To say the least I found them fascinating and I immediately started to apply as much as I could in class. The results were astounding: from professionals to amateurs I saw immediate progress, less tension and even a better kinesiological sense.

I understand that becoming proficient in Alexander technique would take a lifetime of study and I am already 56 years old! But I do want to learn more. I see over 150 students a day and believe I (if it doesn't seem too strong to say) have a strong moral obligation to impart the best knowledge possible to these young people to help them along their path. Over the years I have used Iyengar Yoga, Body Mind and physics applied to dance, in my classes. But what I see happening after trying to get across at least the sense of what you are teaching has no precedent.

So here is my question: How to go about it? There are several Alexander Therapists in Paris. I would be happy to study with them at least for my own well being. But I am also looking for someone who can help me apply this to dance and ballet in particular. I would also like to learn to "see" with an Alexander mind-set to be able to better correct my students. Would you have any ideas?

Lastly I will be in NYC for a few days in May. Is there anyone teaching a ballet class with using these principles? Would it be possible to watch?

Do you yourself have any classes where you would permit a curious bystander? At any rate I must once again congratulate you on the fine videos. What a gift for me as a teacher and also for my students;

It would be an honor and a privilege to shake your hand and thank you personally.

Most sincerely,
Wayne Byars



"This is the result of a labour of love...There is no doubt that Caplan and Kosminsky have earned their stripes as master teachers. The set is simple, comfortable and well lit. In brief, this is a top production and highly user friendly."

Lawrence Bruce
FUTURE DIRECTIONS



"This well-produced video provides clear, practical instruction and is appropriate for viewers interested in a general introduction to the Alexander Technique."

Ada Con, Terry Fox Lib,
Port Coquitlam, BC
LIBRARY JOURNAL



"William Hurt is a willing, low key accomplice, a good foil for Kosminsky's gracious manner...Together they make the fundamentals of Alexander Technique appealing."

DANCE MAGAZINE



"A pause-button must."

ELLE



"My library of Alexander related books pretty much includes everything in print including all F.M. Alexander's original books and I have been a student for a number of years, yet this really stands out.

Perhaps it's the advantage of the medium (video vs. book) or perhaps Jane is just a particularly skilled educator. I think it is perhaps a mixture of the two as I do have other videos that I haven't found anywhere near as useful as this.

I think Jane has gone as far as possible to explain the Technique without actually being there in the room with you and being your teacher.

Many videos bypass this potentially difficult area and avoid the "how" bit and are really just introductions giving you enough detail to decide whether you want to contact a teacher -- this is perfectly understandable given the nature of the subject, but Jane has taken a risk here. I think she has managed to achieve the very difficult balance between reaching a wide audience and the responsibility of an educator.

I can't recommend this enough."

Jon from the UK, Customer Reviews
AMAZON.COM



Reviews for For Dancers, The Alexander Technique

"As a dance professor and Alexander Technique teacher, I was thrilled to learn of the release of Jane Kosminsky's new DVD: For Dancers, The Alexander Technique. This two-DVD set is a valuable, much-needed resource for our field. Created especially for dancers, it will also be enlightening to dance teachers and to Alexander teachers who work with dancers. Kosminsky brings her years of experience teaching Alexander Technique to dancers to the screen, introducing the basic principles of the Alexander Technique and demonstrating their applications to dance movements. Kosminsky's delivery of the material is clear, exuberant, and colored with humor and warmth. She offers a wealth of information and ideas that the viewer can explore and revisit time and again.

In Disc 1, we are introduced to key concepts such as the use of thought to effect change, awareness, inhibition, and direction. Kosminsky refers to these and other principles as she demonstrates on her Juilliard dance students. These dancers are classically trained in techniques such as ballet, Graham, and Limón; therefore the types of movements and concerns that are addressed relate especially to this kind of training. Dance movements including plié, tendu, extension, bending, twisting, arm movements, and jumping are explored, each with a different dancer. Each section ends with a short improvisation allowing the dancers to explore the principles in a more playful way.

In Disc 2, Kosminsky continues to delve into the intricacies of applying the Alexander principles to dance by responding to students' questions and demonstrating through hands-on work. Issues such as turn-out, arabesque, sitting on the floor, contractions, and back port-de-bras are addressed. Following this, three professional dancers chat informally about their experiences with the Alexander Technique. The dancers are charming and generous in sharing their varied perspectives. The DVD ends with a short explanation of Alexander's story, beautifully illustrated with archival photos.

Throughout the two DVDs, Kosminsky gives alternate ways of approaching many key issues dealt with by dancers. Examples of "dancer traps" are sprinkled throughout, including such misconceptions as attempting to plié by rotating the legs out to bend the knees, or rolling out on the little toe side of the foot when standing. Kosminsky offers dancers a more efficient way of approaching these movements through the Alexander Technique, giving very simple but profound information. I appreciated her emphasis on breathing and recognizing that even small or isolated movements are a whole body experience.

There were several other aspects of the DVD that I particularly enjoyed. First, I liked Kosminsky's use of musical accompaniment during the demonstrations, keeping the emphasis on dancing while acknowledging that musicality and rhythm can enhance coordination. Second, it was good to have the skeleton "Blanche" appear periodically to illustrate the principles. Finally, I was glad to see the inclusion of movements that are not necessarily easy or natural, but are nevertheless enhanced by good use.

For Dancers is a rich and informative introduction to the principles of the Alexander Technique especially for dancers, and to my knowledge, the only resource of its kind. May this inspire others in the field to add to the literature."


Rebecca Nettl-Fiol
Associate Professor of Dance
University of Illinois at Urbana-Champaign


(First published in AmSATNews no. 70, Spring 2006
(c) Rebecca Nettl-Fiol. Reproduced with permission.)



Testimonials for For Dancers, The Alexander Technique

Congratulations on your wonderful DVD!! I finally got it ordered and just spent a good part of yesterday indulging in it. I think it is super and can't wait to show it around here to the dance department people. It is so well done and has a wonderful teaching/practical informality about it that I haven't seen in AT media before. I can tell from the credits that you had excellent help and know that a lot of preparation went into it. Well, it has paid off and I hope that you're getting lots of wonderful responses. I will certainly promote it at our annual AT Workshop between Christmas and New Years and keep studying it again and again for all the goodies that it contains.

Thank you so much for doing it. You have so many insights to offer for the training of the dancer, and they need to be shared widely.
Many, many thanks,

Lucy Venable
Professor Emerita, Department of Dance, The Ohio State University
Teaching Member of ATI & AmSAT


"I have been a Dance Educator in the Indianapolis, Indiana area for almost 30 years and a studio owner for almost 26. Over the years I have produced many wonderful dancers but I realize that in order for dancers to excel in today's market, we as Dance Educators have to give them every advantage we possibly can. Dance education is no longer a matter of follow the leader and/or trial and error learning.

I was personally lucky enough to have one of my students accepted at the Juilliard School and witnessed his progress and excitement as he was exposed to the Alexander Technique as part of his first year training. As I started to research this Technique, I too became intrigued and excited. I was thrilled to hear that a video was being produced to present the material specifically for use by dancers addressing problems that dancers actually face daily in the classroom and as performers. As soon as it was available, I purchased it and it has changed the way I teach and the way my dancers will train forever.

I use the DVD as part of my ballet program each week showing first an improv section, a chapter discussing a specific topic and finish with the next improv. We then implement the material shown and the techniques become part of our classroom experience. The information is then spread across our entire program including our Tap, Jazz, Modern and even Acrobatic students.

My students have drastically improved their balance, the height of their releve' and arabesque, their ability to turn, their foot articulation and their all over line. I feel like it has removed the struggle of training and replaced it with a more holistic, healthy approach that the dancers can understand and implement themselves with ease. I work all over the country as a convention teacher and guest artist and find the contrast between my "Alexander" trained dancers and others amazing!

Many thanks to Jane and her staff for providing me with the information and specific techniques I needed to produce the next generation of healthy, intelligent and self-motivated dancers through the use of the Alexander Technique for the Dancer DVD."


Diane Gudat




This site and all content Copyright 2005-2018 THE BALANCE OF WELL-BEING
Site Design: Canfield Design Studios, Inc.